Expand your campaign without having to worry if your provider can accommodate you or not.
Call center companies frequently deal with this particular problem.  You start with a conservative number of seats and soon your campaign is scaling.  More seats are needed. You never thought your seat leasing provider can provide you a solution for this conundrum.
BPOSeats.com takes Cebu seat leasing clients every week who expanded beyond our competition!
Most of our clients approach us after outgrowing their existing facility.  BPOSeats.com makes a big difference by making sure you don't have to worry about expanding your campaigns.  Our 4000+ seats, across 4 facilities, means we are a serious player in the business.  BPOSeats.com takes pride in coming up with creative working solutions and increase our roster of clients.  We often are adding more space in our ex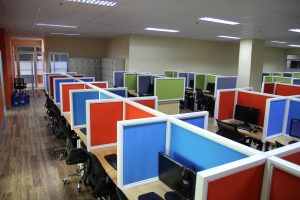 isting facilities, taking additional floors.  New buildings are sought to fill the growing demand our clients request.  We are the largest Cebu seat leasing option and it shows. Call center businesses can continue to thrive as they scale up their campaigns.
Clients/campaigns can work in separate buildings…
The goal of our business is NOT to lock you into year-long contracts that prevent you from growing. With a huge clientele we have right now, many of them are scaling.  As they grow, we develop creative solutions in our inventory to accommodate you.  Work in one building and then jump to another as you handle operations on another site. BPOSeats.com is the most flexible Cebu seat leasing solution.  Long-term growth and success are the goals we have in mind for our company and for our clients. We will do what it takes to keep you happy and keep your campaign growing the profits you need!