BPO Offices for Expanding your Call Center Operations in 2020
BPO companies in the Philippines especially in cities like Manila, Cebu, and Angeles are constantly eyeing for expansion. Many of them can no longer be accommodated in their current office that's why larger facilities that are capable of handling more campaigns are badly needed!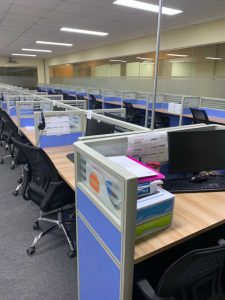 Call center businesses in Angeles looking for a professional and functional setup should partner with BPOSeats.com. We are known as the SEAT LEASING KING of Cebu and soon enough in the Philippines. We are the largest seat leasing provider with over 10,000 seats spread across seven different locations:
eBloc Tower 4, Cebu IT Park
Central Bloc, Cebu IT Park
ACC Tower, Cebu Business Park
i1 Building, Cebu IT Park
GAGFA Office, Panagdait Mabolo
JDN Square IT Center Office
Marquee Mall, Angeles Pampanga
Leasing options with us are flexible compared to other providers.  Some companies would lock you up but not us. Very huge savings can be enjoyed as you get to lease for as low as $150 per seat monthly. The price includes a brand new computer, professional office chairs, desk with cubicle setup and sound-dampening carpet, ice-cold air-conditioning, electricity, and the BEST INTERNET IN THE PHILIPPINES (Dual/Tri 100mbps line provided by RISE, PLDT, and Globe.)
The process is fast, easy, and affordable. Privacy is a major concern for many of our clients. That is why here in BPOSeats, we offer 100% exclusive space for your business so you get the privacy and facility that enables your business to grow! We offer 24/7 exclusive space for your business to grow.
To know more information about the services we offered or if you wish to visit one of our sites, please don't hesitate to send us an email through amanda@bposeats.com or call us at +639159507909. We'd be happy to take you on a tour in one of our great facilities!