Seat Leasing Options for your in Cebu, Pampanga, and Manila
Most innovative seat leasing options for your BPO business are available in BPOSeats.com. We are indeed Cebu's most in-demand leasing provider and actually have paved the way for numerous BPO firms to acquire space for their own with less hassle and lesser cost!
Our seat leasing options can be availed in any of our sites in Cebu, Pampanga, and soon in Metro Manila.
eBloc Tower 4, Cebu IT Park
Central Bloc, Cebu IT Park
ACC Tower, Cebu Business Park
i1 Building, Cebu IT Park
GAGFA Office, Panagdait Mabolo
JDN Square IT Center Office
Marquee Mall, Angeles Pampanga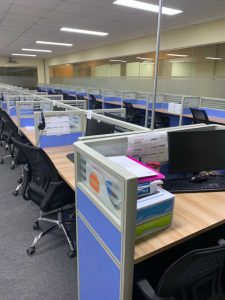 Our clients can jump from one building to the other to further grow their business within our facilities.  For as low as $130 per month, you can now avail of our seat leasing service. Aside from getting your own private and exclusive office which you can access 24/7. You also get to enjoy high-speed internet connection and free use of our meeting/conference rooms. We also provide our clients with brand new facilities and computers, professional office chairs, cubicle setup with sound control, 24/7 IT support and security.
Fast, easy, and affordable seat leasing solutions in the country can only be provided by BPOseats.com. Our clients can definitely tell that our Call Center offices look professional and exclusive. We have spent a lot of our time and resources in perfecting the business of giving our clients the working spaces they truly deserve. Whether it be five or even a thousand seats, we accommodate to your every need!
So, if you are planning to begin your company in Cebu, Pampanga, or Manila and is trying to find the very best seat leasing alternative, please don't hesitate to contact us today!