2020 year: Call Center For a New Decade
New Year, New beginning as they say. As a new decade is to enter, let us check on some of the factors that could enhance your call center business.
Transparency
Transparent communication is ideal for clients who keep integrity on the check. Not only that it keeps the communication consistent and unified across everyone. But it also decreases the instances of concerns to repeat over and over again.
Work efficiency
Time is one of the greatest assets in a company. The faster that a task gets done, the better. Moreover, for employees to put it into practice requires a toll of training and experience. So for this year 2020, set a team goal objectively, take time to read, and let your work speak for you. There is no better time to invest in yourself and for the company other than now.
New Year, better us!
These New Year's business resolutions will help any business grow in 2020. But whatever your business goals or resolutions are this coming years, make sure that you give yourself the best chance at achieving them by making them SMART: specific, measurable, achievable, realistic, and timely.
Invest properly, improve your business with us
Tired of looking for a better location for your business? Having a hard time coping up with the expenses you have? We understand the dilemma of starting up your business, and with BPO Seats we got your back!
We offer a complete pre-set serviced workplace: Here at BPOSeats.com, all facilities are brand new and use only the highest quality, and the latest technology available.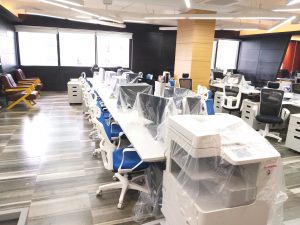 Building your business with us, we make sure to keep you satisfied! Our bundle comes with a backup generator, free use of conference/meeting rooms, free water, and the fastest 100mbps+ FIBER OPTIC internet connections with 2 different internet service providers: PLDT and RISE.
To know more about us: https://bposeats.com/
Mobile: +639 159 507 909
Email: amanda@bposeats.com